How The Other Half Loves (1969)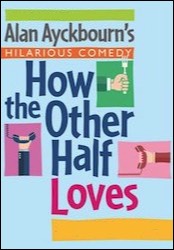 To navigate, use the links in the bar above or to the right.


World Premiere:
31 July 1969

Venue:
Library Theatre, Scarborough

London Premiere:
5 August 1970

Venue:
Lyric Theatre

New York Premiere:
29 March 1971

Venue:
Royale Theatre


Play Number:
9

Published:
Samuel French
Other Media:
No


Short Synopsis:
Notable for its composite set of two over-laid living rooms allowing for simultaneous action in two places,
How The Other Half Loves
centres on three couples. Fiona Foster and Bob Philips are having an illicit affair unbeknownst to each other's partners and their cover-story involves helping an unaware third couple, the Featherstones, leading to farcical misunderstandings and events.


Availability
Amateur:
Apply to
Concord Theatricals
.

Professional:
Apply to
Casarotto Ramsay
.


How The Other Half Loves
quote

"It's difficult for him. He's never been wrong before, you see."
All research and original material in the How The Other Half Loves section of Alan Ayckbourn's Official Website is by Simon Murgatroyd M.A. and copyright of Haydonning Ltd. All other material is copyright of the named copyright holder. Please do not reproduce any material without permission of the copyright holder. For enquiries, email: archive@alanayckbourn.net